AK-Project Kitchen features
Our AK_Project is a complete kitchen system that can smoothyl evolve into other areas of your home. It's also our most popular range.
Take a look at some of the fantastic features available in this modern kitchen range.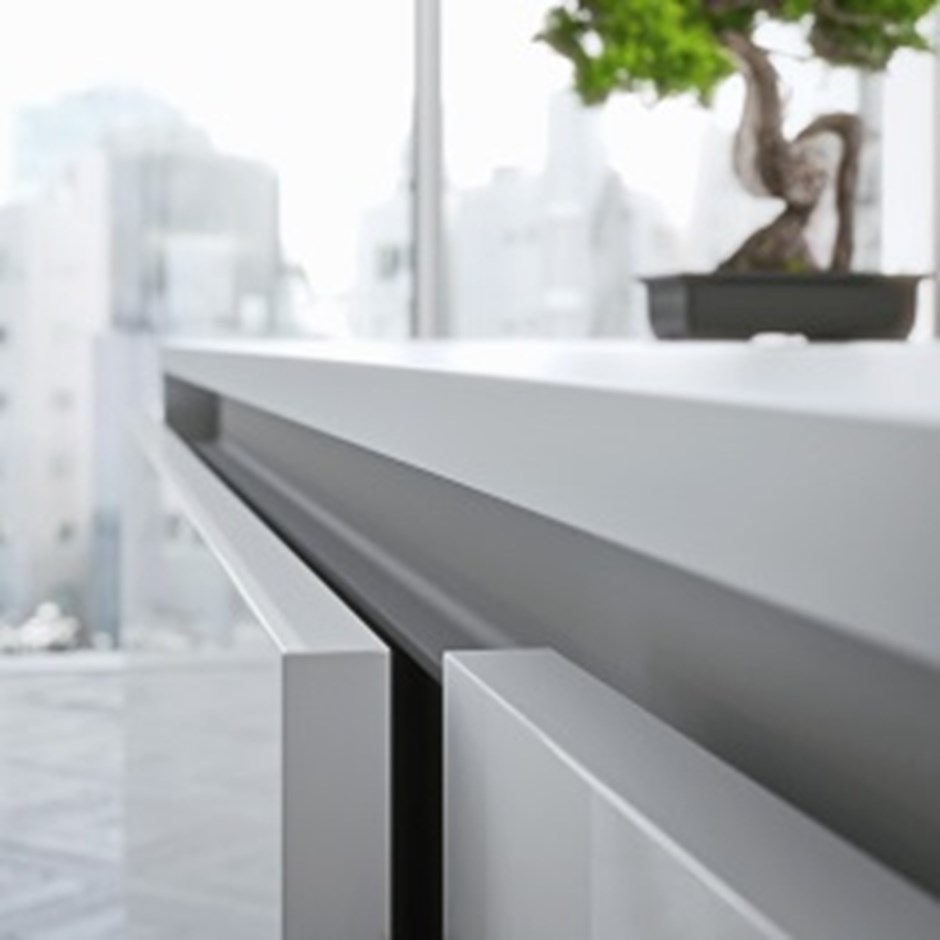 Variety of door handles

The AK_Project range has a variety of handles available for it's doors. From handleless to a step handle, recessed to 30° slope or external handles. For more detail on the options take a look at our kitchen handles page here.
Stainless steel options

The option to have a slim stainless steel counter allows a seamless solution to be created. AISI 304 steel guarantees against corrosion and offers a extremely hygenic surface.
For kitchen snack benches, a tubular stainless steel leg support can be added to continue the sleek modern look.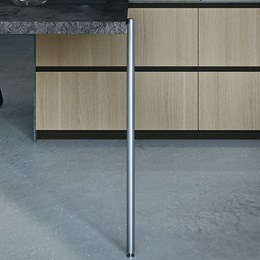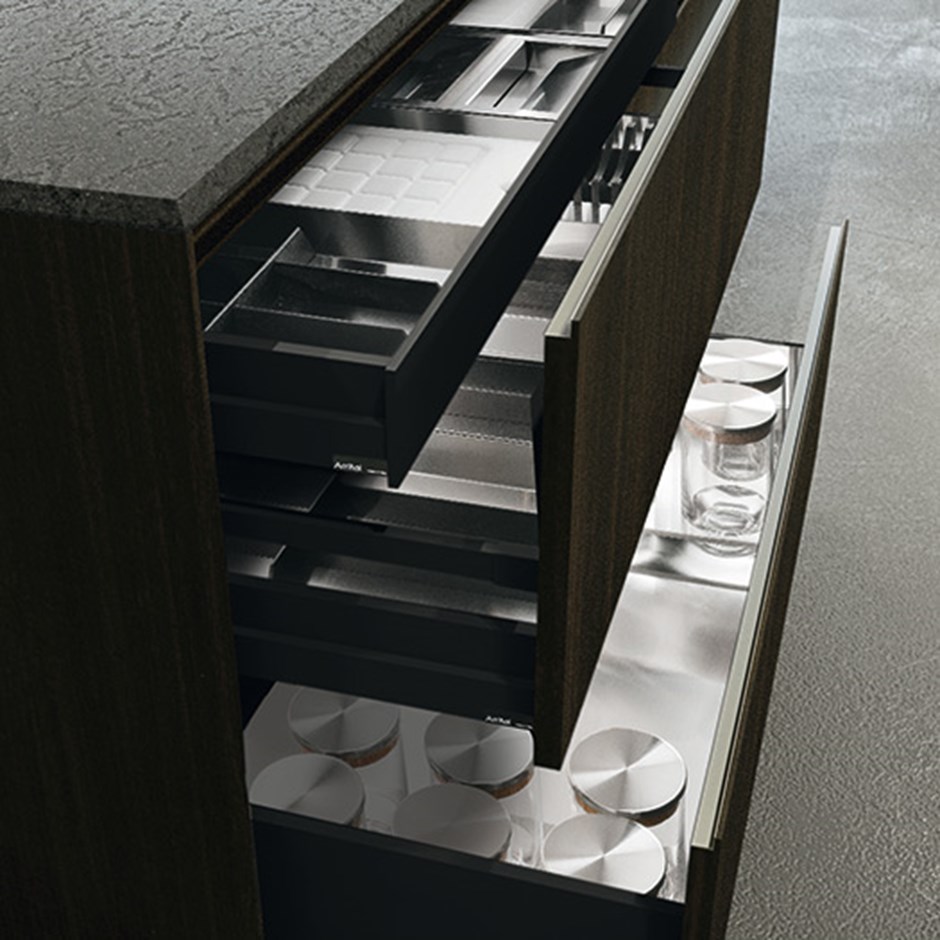 Drawers & pull outs
The internal core of this range is allows the inclusion of both regular and deep drawers to keep all your kitchen essentials neatly tided away.
Adding a drawer within in a drawer ensures you can mazimise the space and store your cutlery above your pots & pans.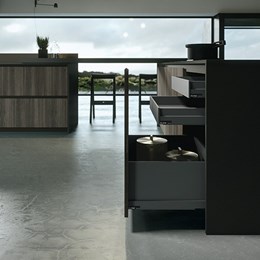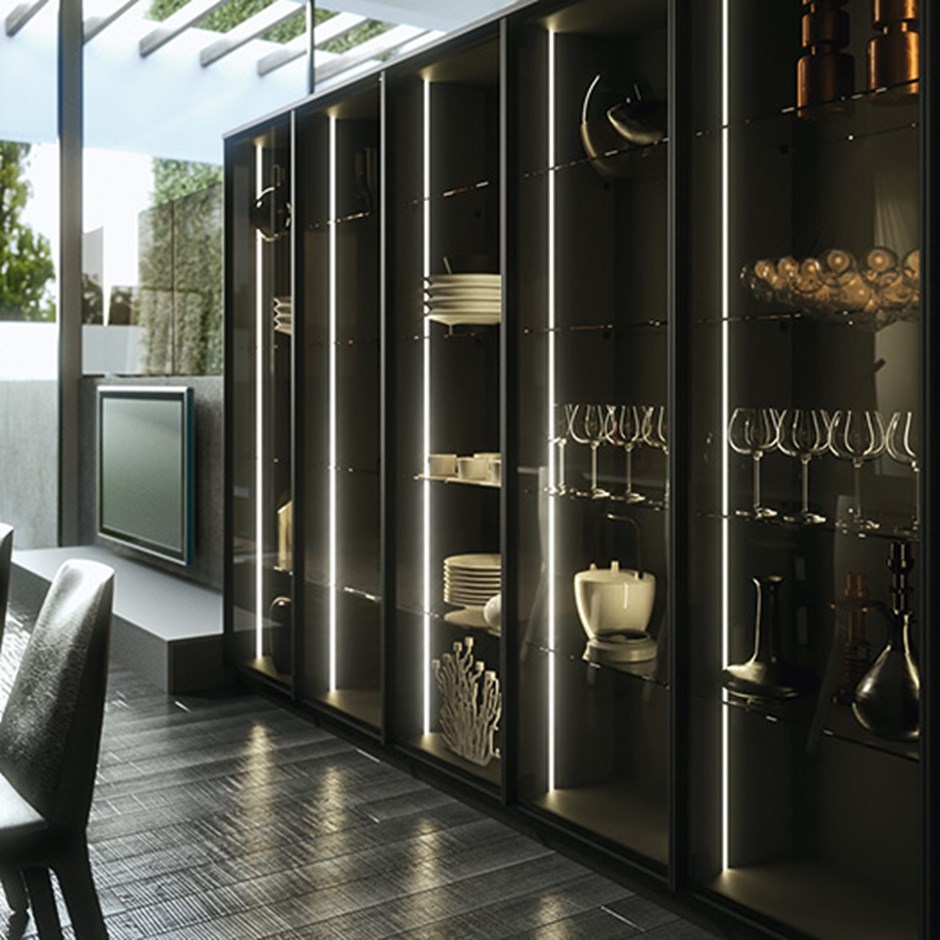 Glass display cabinets
Visual appealing glass display cabinets can be built into your kitchen, flush with your other units. An extruded burnished aluminium frame with glass in a smoke finish & visible back panels in any number of finishes can add style to any kitchen.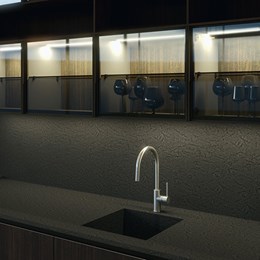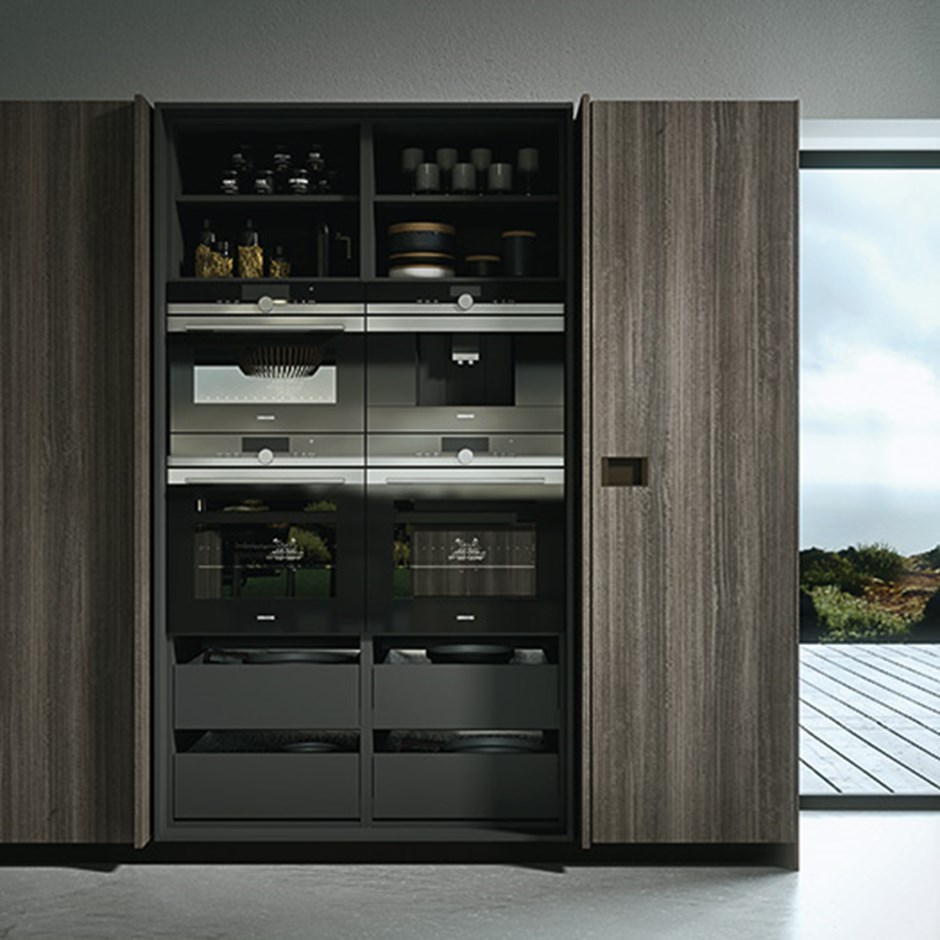 Internal elements
The ability to have numerous elements allows you to create a combination of storage options for your kitchen.
Retracting doors on tall units offers and simple and fast door closing system. Any numer of different internal elements can be hidden from appliances to a fold away work area.
Solutions with pull-out or fixed mechanisms offer smooth and easy opening. They can also be combined with electric opening systems requiring a simple touch of the door, if required.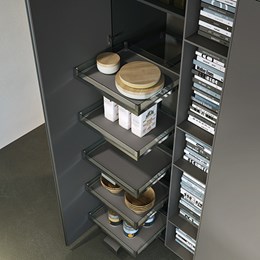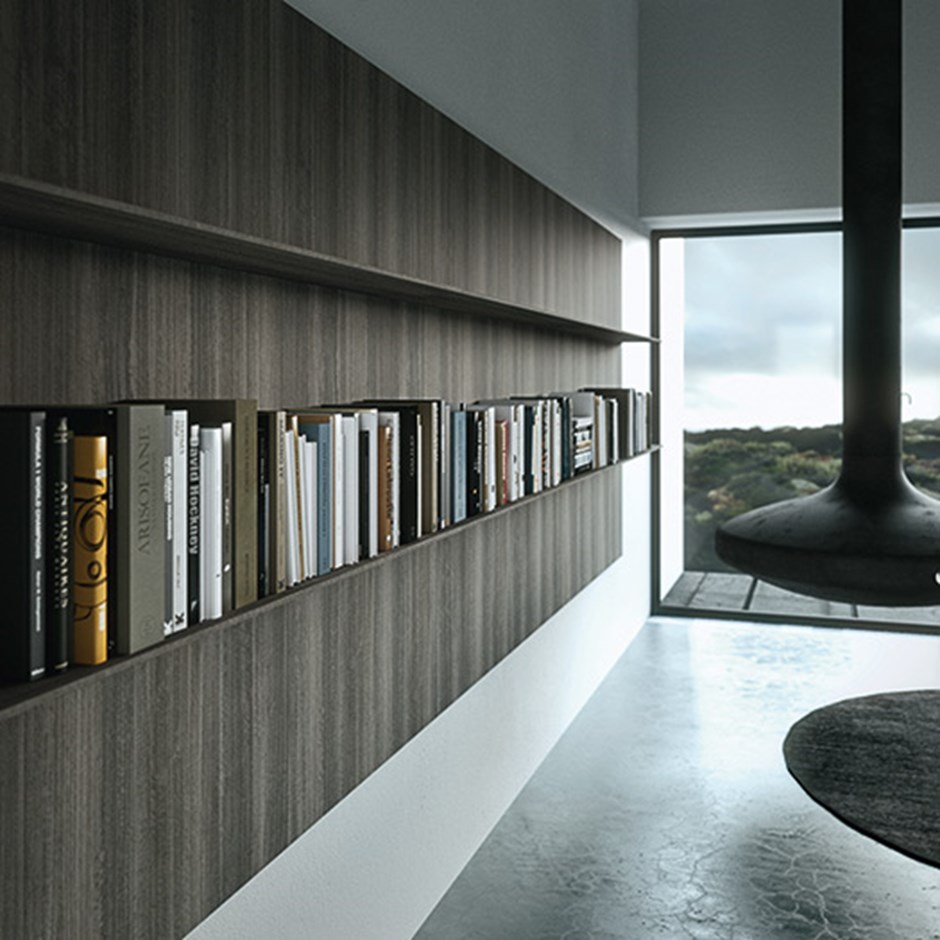 "Strato" boiserie
The Strato wood panelling allows you to extend the style of the kitchen into the living spaces. A variety of finishes and modular solutions allows you to create a look unique to your needs.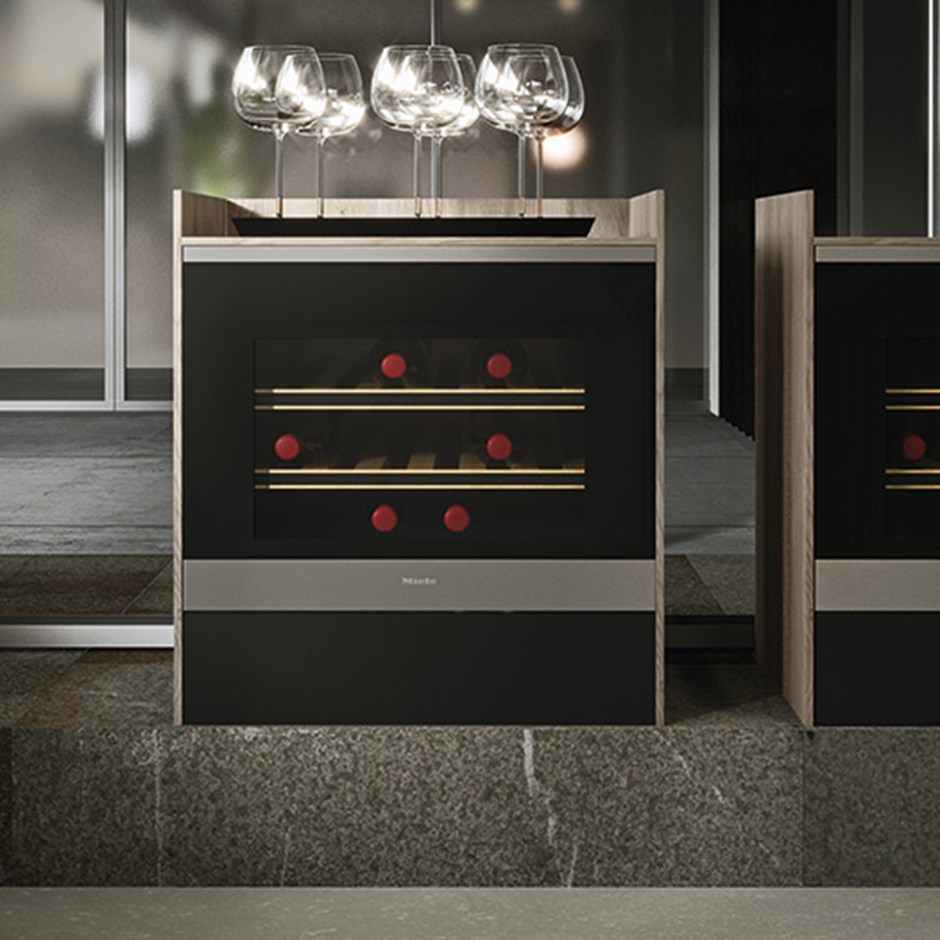 "Solo" elements

These completely independent structures allow you to house an over or wine rack, away from the main kitchen area.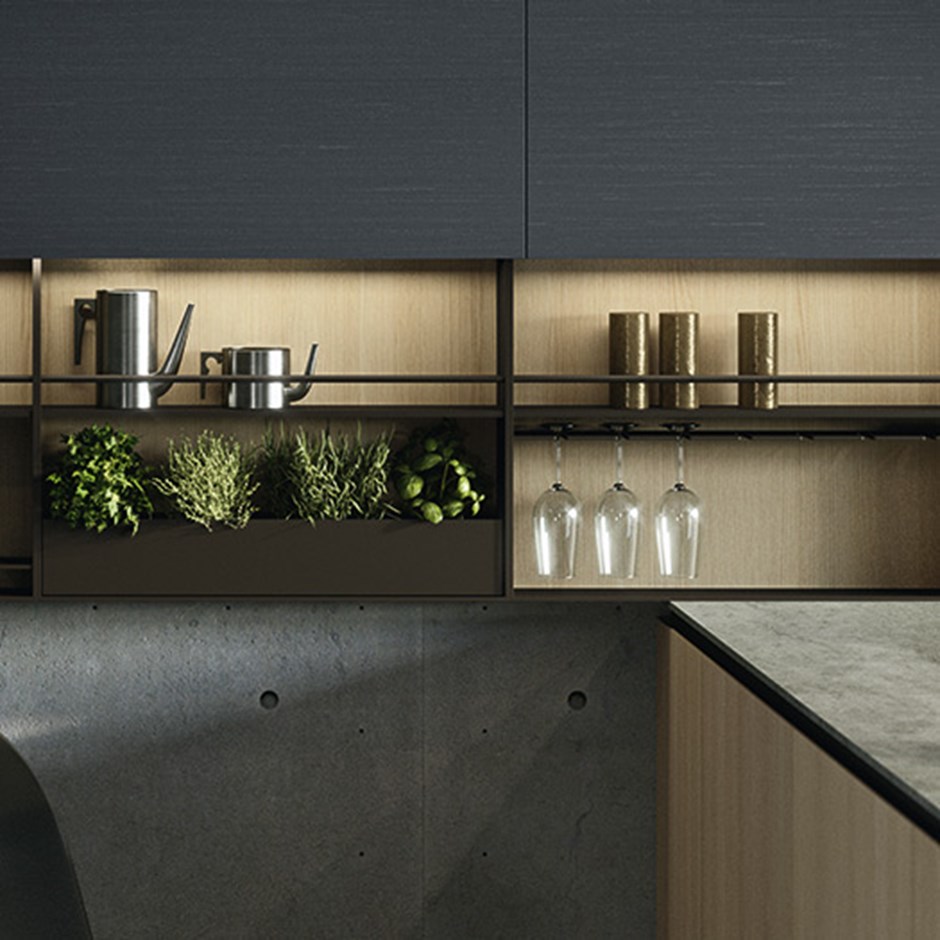 Day box

The modular "Day-box" can continue the kitchen style through to the living areas. They can comprise shelves or even a wine glass rack to offer even more storage options.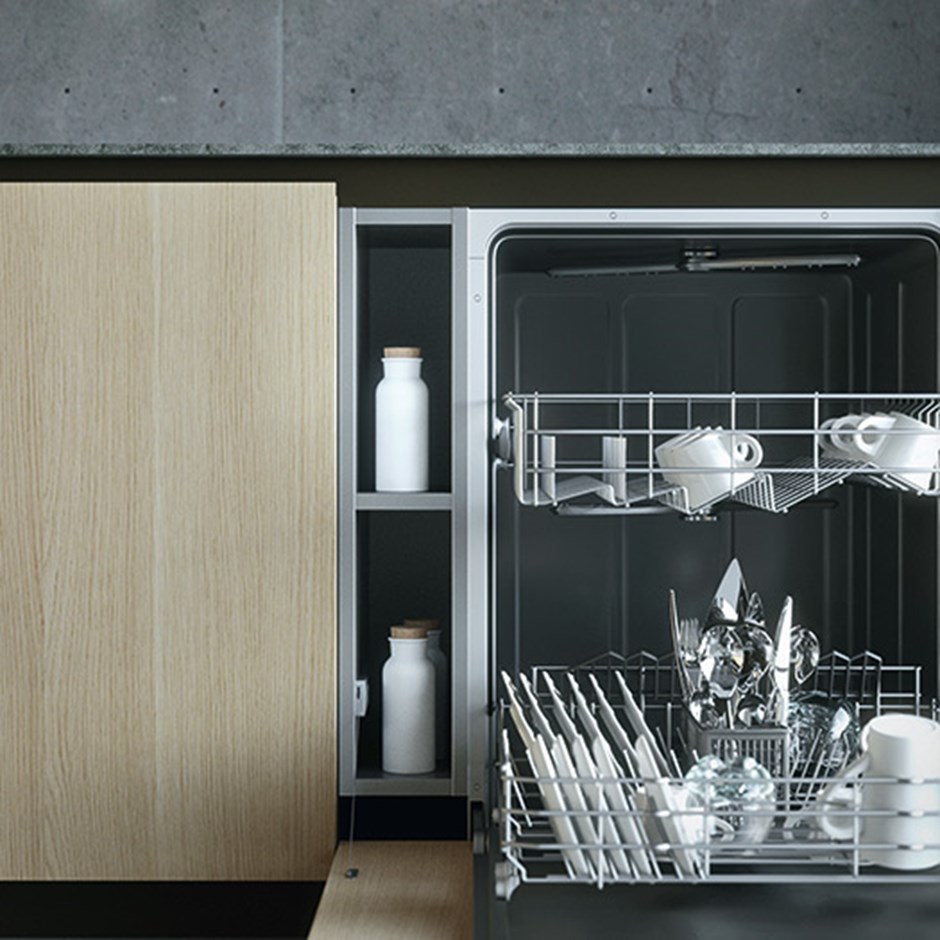 Dishwasher storage

The use of 75 cm-wide doors allows the dishwasher area to be equipped with a steel-finish open housing space, perfect for storing dish washing and furniture cleaning products.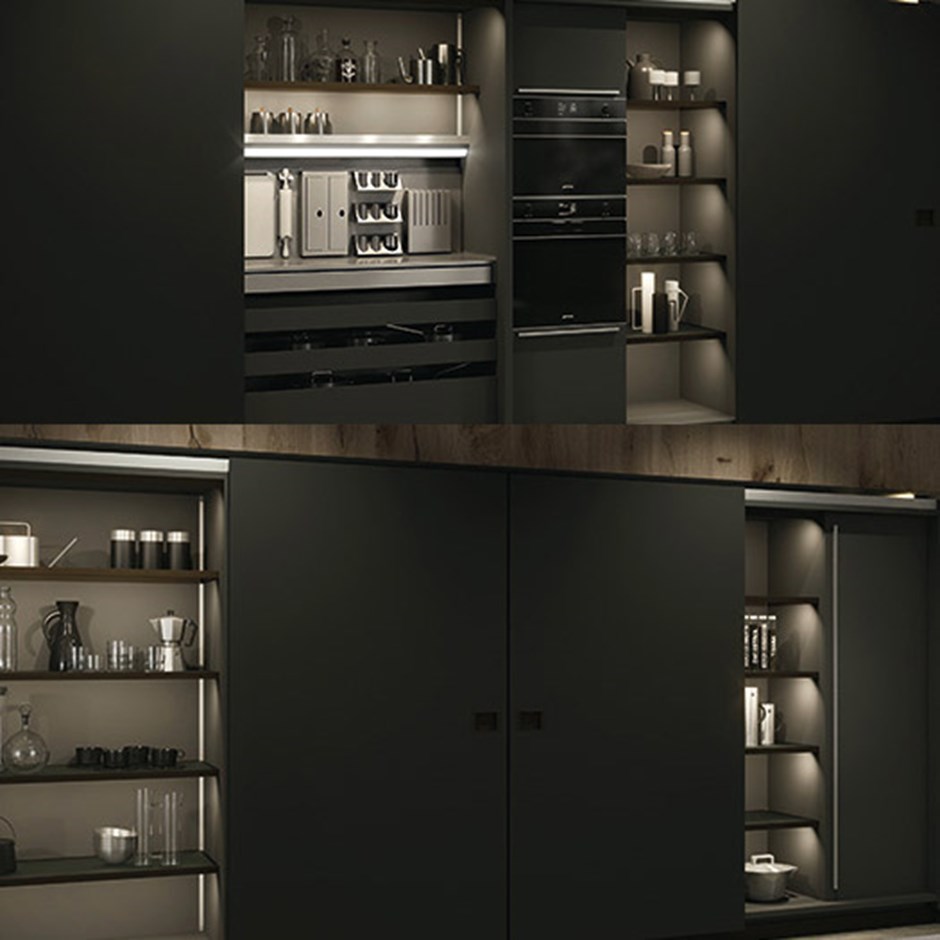 Tall units

The AK_Project tall units can house integrated frides and ovens, as well as shelves, containter compartments or a practial working area.
Dedicated lighting gives style to these versatile elements.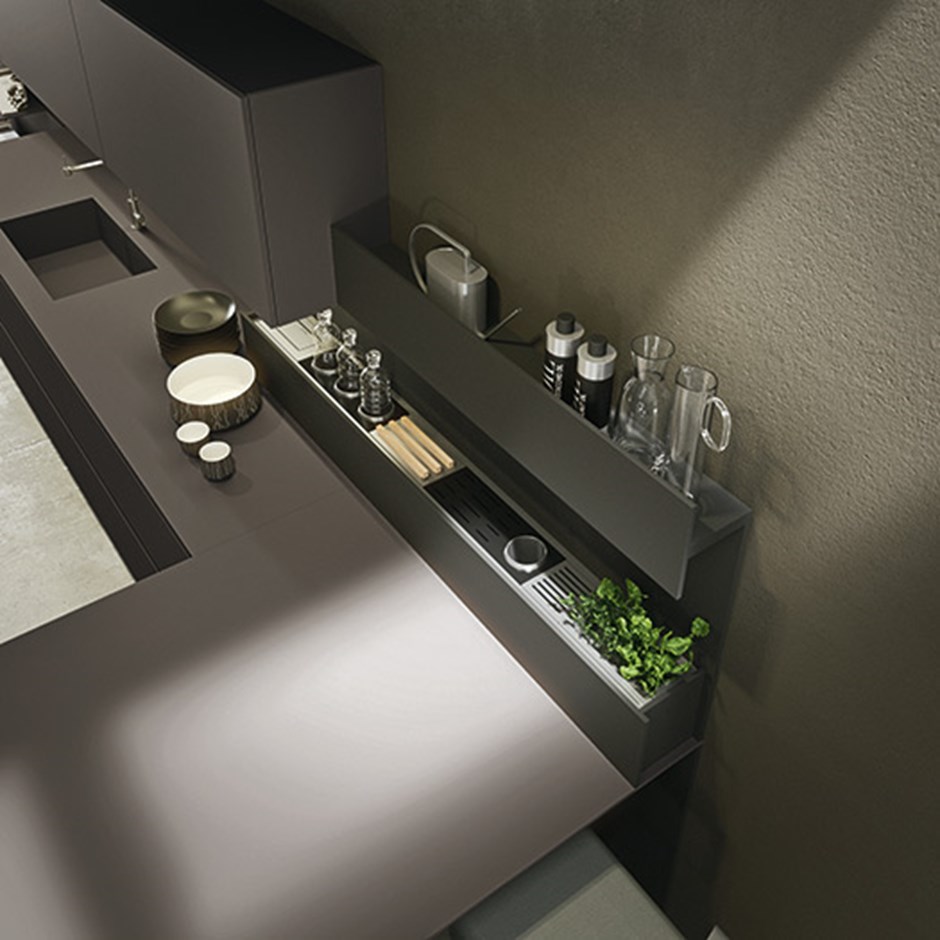 Equipped channel
This modular addition brings efficiency and practicality to yout wokrtops. Glass racks, bottle racks, dish racks and cutting racks can be in instllaed in a spreal internal steel compartment with drainer.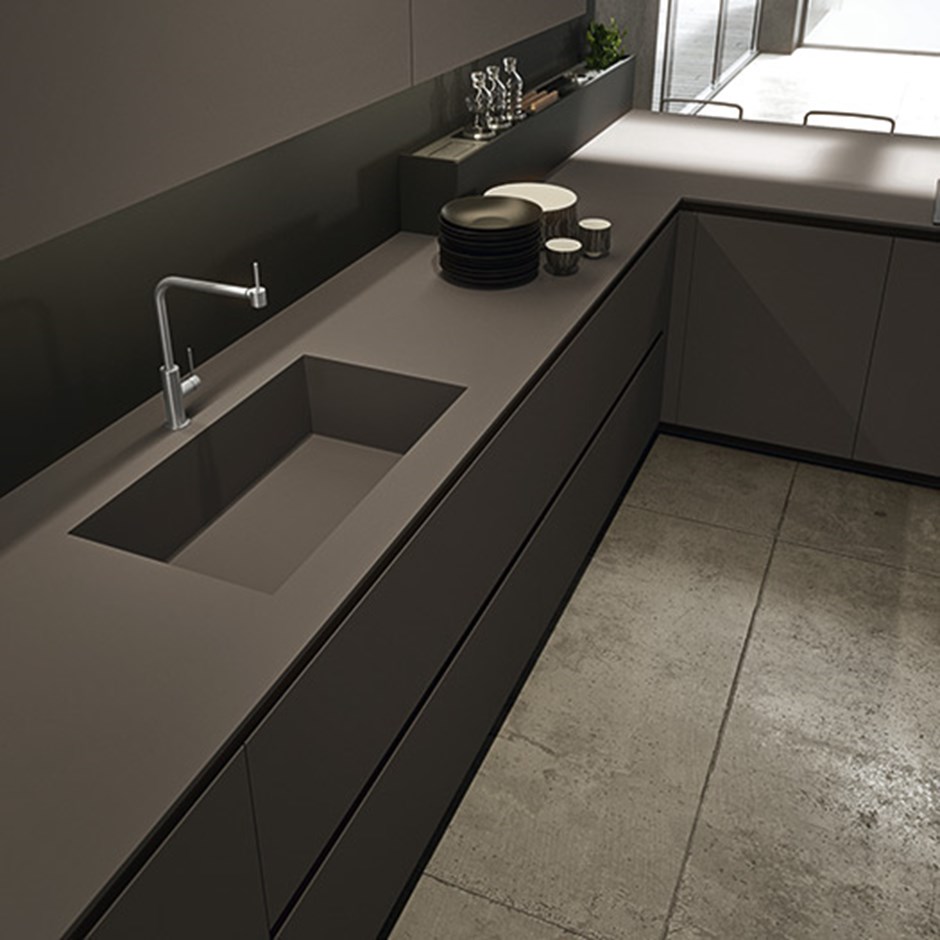 Fenix NTM

The AK_Project kitchen range is available in the very modern Fenix NTM finish. You can read more about this amazing self-healing surface here.
You can have your complete kitchen finished in Fenix NTM including an integrated sink to offer a seamless finish.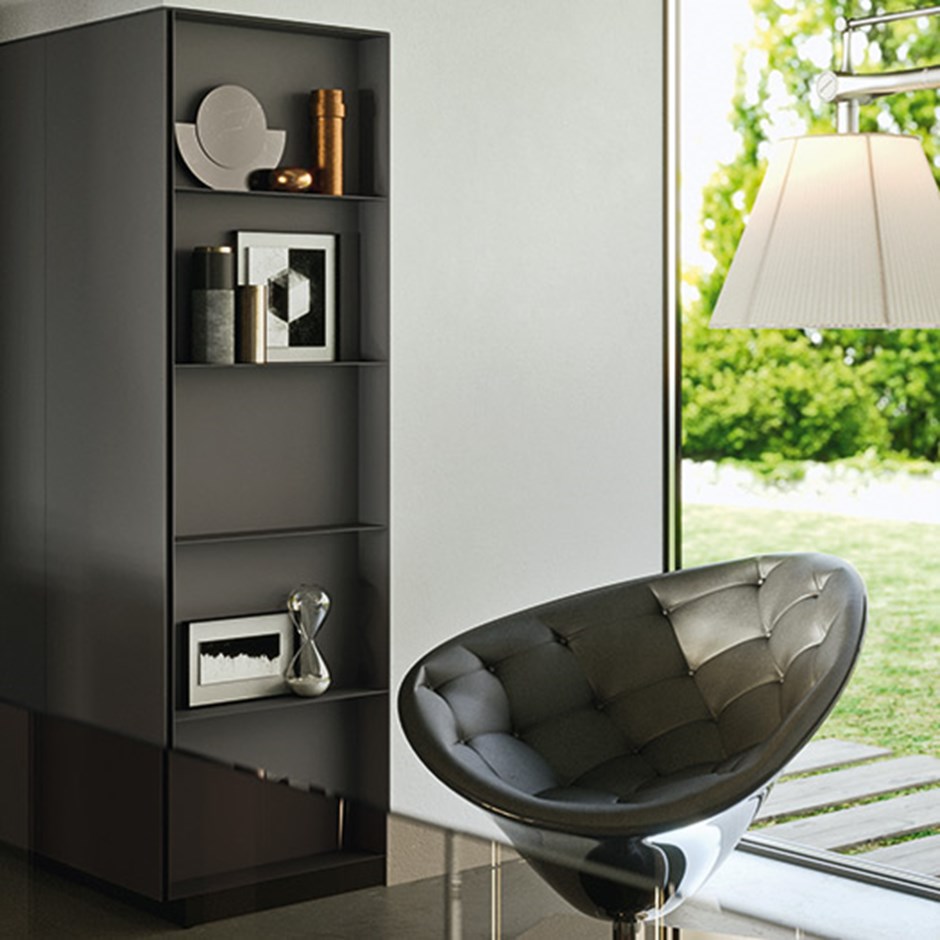 Open unit
This option allows the side panels of bases and tall units to be personalised, making the lateral surface at the end of the composition usable.
These elements are composed of a painted metal structure characterised by minimal thickness, enhancing their visual impact.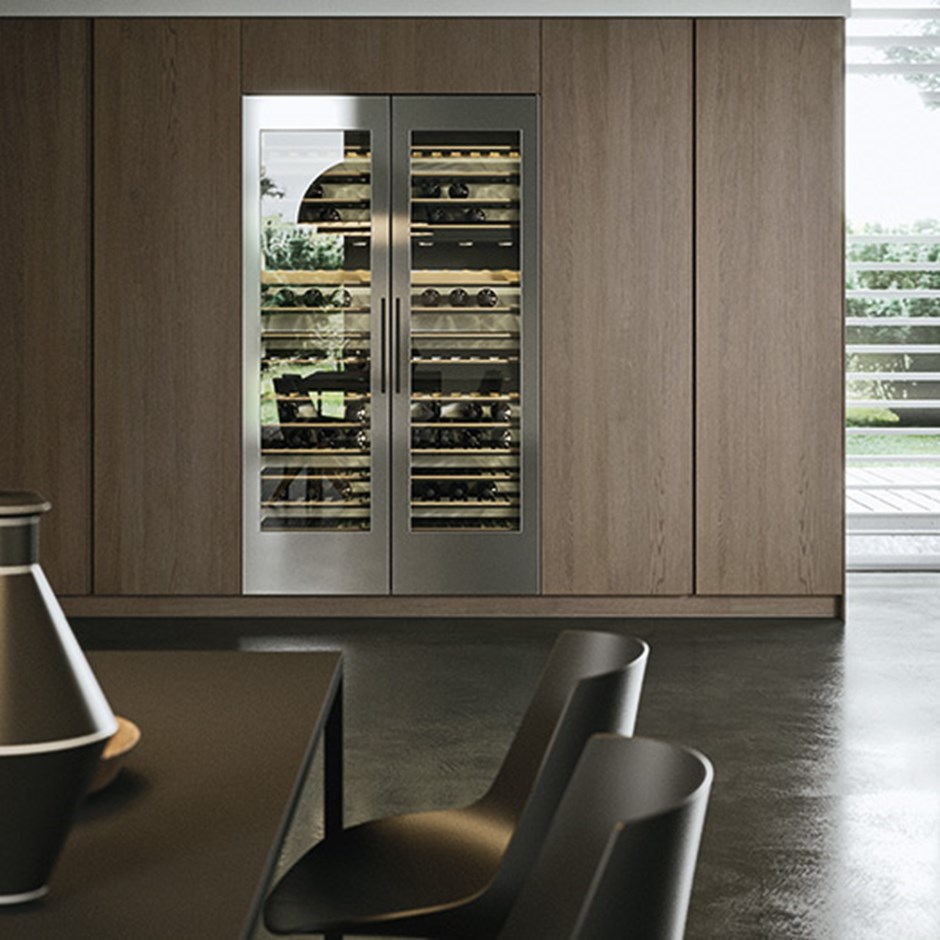 Wine cellar
The addition of the wine cellar ensures bottles are stored at the ideal temperature. Thanks to the separation of internal compartments, different types of bottles can be stored: red, white and champagne. Special led lights and a glass door with UV protection maintain ideal storage conditions.
"Focus on" lights
The innovative "Focus On" lights slide along a central track, for localised lighting on the island worktop.
"Sopesa" hood
In addition to its primary extraction and filtering function, this eye-catching hood is equipped with a disappearing up-down system allowing the storage of spices and handy food preparation equipment.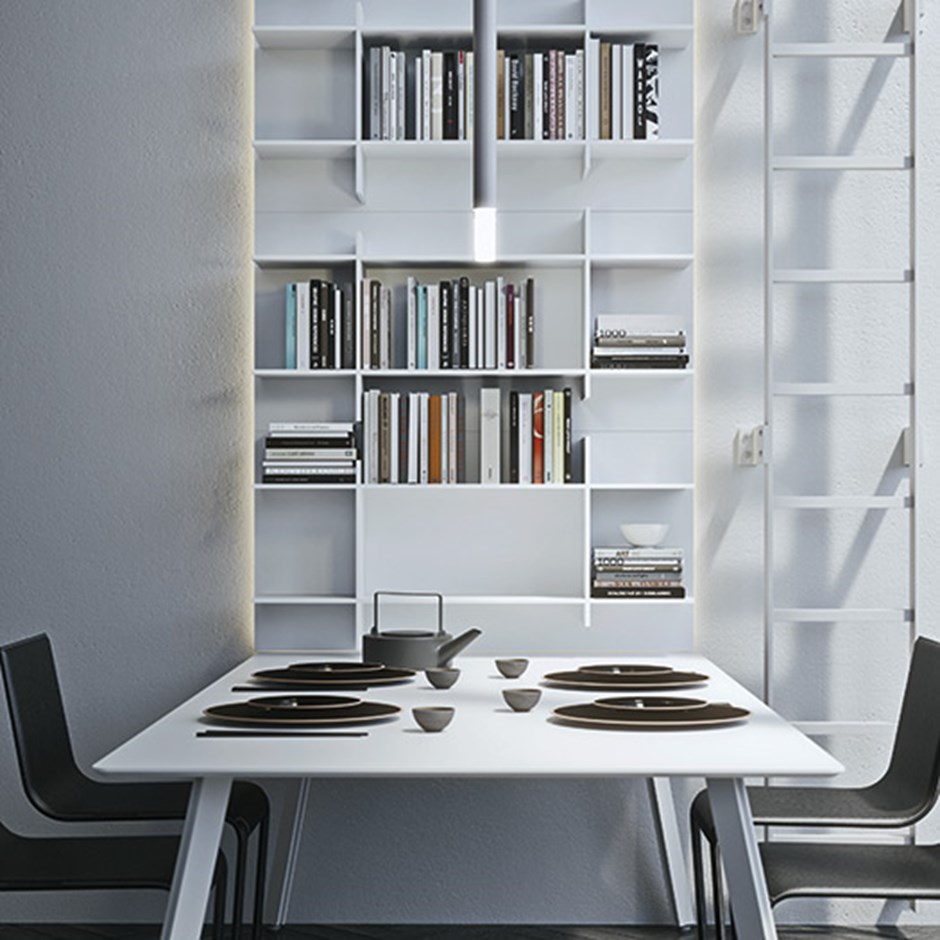 "Shangai"
The "Shangai" open structure allows you to completely personalise your spaces, without any size constraints. The structure is composed of interlocking panels which creates a play on contours & combines to create an exclusive look. Each single element can have perimeter lighting.
If you'd like to know more or see some of the features in reality pop into our Plymouth kitchen showroom where you can talk to our experts, alternatively give us a call on 01752 787131.