Guess what... The first of May Day's is here which means it's a 3 day weekend!
And let's be honest, Bank Holiday means one thing, COCKTAILS! Which is why we've devised this list of 5 of the very best cocktails for you to try this weekend, whether that's at your favourite club/bar or you're throwing a house party. We've got you covered, we've even thrown in some Mocktails too.
---
1) Fruity Lemonade
Quench the first with this surprisingly refreshing mocktail, plus IT'S PINK!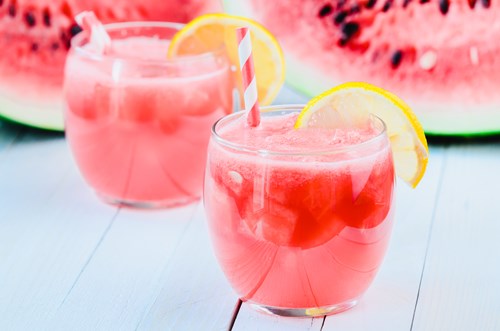 Ingredients:
A Bottle of Lemonade, Strawberries, Mint, 1 Lemon, Ice
Method: 
Pop some ice in a blender and crush it up, if you have crushed ice, skip this step.
Pop some washed and hulled strawberries into a blender until you have a smoothie like consistency
Pop as much crushed ice as you like into a jug or glass (You'll want a jug though)
Pour some of your strawberry smoothie into your glass or jug, the amount is down to your own personal taste buds.
Pour in some lemonade, leaving about half an inch from the top if you're using a glass and about an inch if you're using a jug.
Drop in some strawberries, cut into halves or quarters
Squeeze in a drop of lemon (to your own taste) 
Add a slice of lemon to the side of your glass
Garnish with a mint leaf
Drink & Enjoy
---
2) Non-Alcoholic Fruity Pimms 
Whoever said no-alcohol can't be fun is kind of right, but that said this mocktail is to die for! Plus. It has plenty of fruit in, so counts towards 1 of your 5 a day!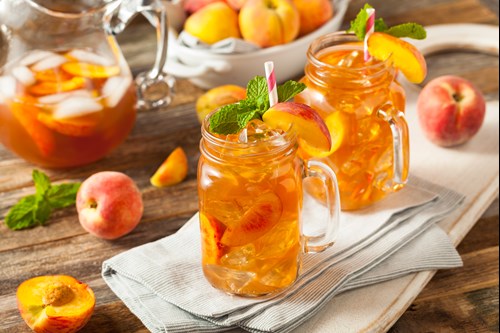 Ingredients:
Ginger Beer, Chilled Tea, Dark Brown Sugar, Lemonade, Peaches, Strawberries, Cucumber, Lemons, Mint, Ice
Method: 
Create a cup of tea, NO MILK! Stir 3/4 of a teaspoon and stir until dissolved, leave it to cool
Once cold, add 40ml of Ginger Beer
In a large jug, add some ice cubes
To the same jug add a few slices of peaches, oranges, lemons, cucumber and strawberries and some a squeeze of lemon juice.
Pour in your chilled tea and Ginger Beer mix
Top with Lemonade (Your jug should ideally be filled a quarter of the way with your tea/ginger beer mix and three-quarters full of lemonade)
Pour and enjoy, use mint and slices of fruit to garnish glasses
---
3) Summer Fruit Wine Slushies
Name something better than a slushie in the sun? - WINE SLUSHIES, That's what!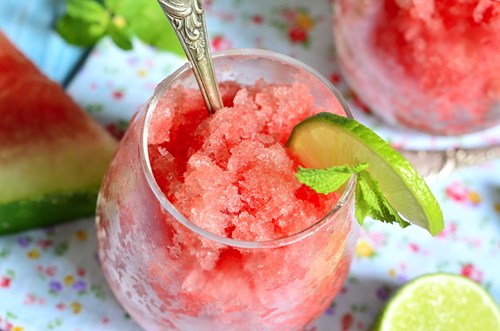 Ingredients:
Strawberries, Peaches, Grapes, Lime, Your favourite fruity wine or white wine, ice
Method: 
Wash and half the strawberries, peaches and grapes.
Add around 1-2 handfuls of ice cubes into a blender or food processor
Lightly blend to chop the ice
Pour in 400ml of wine and add around 6 strawberry halves, 3 peach halves and about 8 grape halves (or to your own taste)
Blend/Mix until you have a thick, icy liquid
Pour into a glass and top garnish with a slice of lime, and a sprig of mint
Add a spoon
Eat, Drink & Enjoy!
---
4) Cherry Bakewell Prosecco
All that fruity-goodness in a cocktail, so naughty but so good!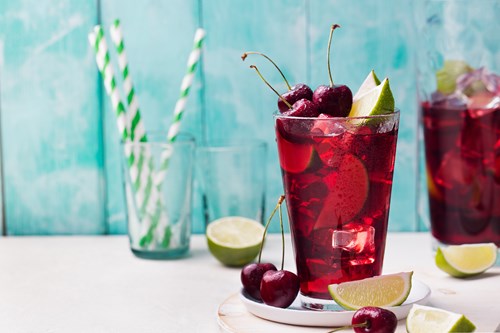 Ingredients:
Cherries, 1 Lime, Amaretto or Disaranno, Prosecco
Method: 
Wash, de-pit and mash some cherries into a pulp (2-3 per glass) 
Add some crushed ice to a glass
Pour your cherry pulp into the bottom of a glass, over the ice
Pour in a shot of Amaretto or Disaranno (around 15ml, 30ml for a double) 
Top with Prosecco
Garnish with a few whole, de-pitted cherries and a slice of lime.
Drink & Enjoy and hold back the Ohh-Ahh's
---
5) 
Margarita
An absolute iconic drink, we had to include it in this list.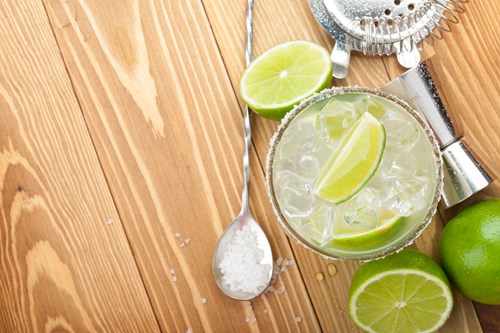 Ingredients:
Tequila, Triple Sec(Cointreau) or Mango/Peach Liqueur, Limes, Lemons, Salt, Ice
Method: 
Place 60ml of Tequila and 25ml of Triple Sec or Mango/Peach Liqueur and ice into a blender or food processor
Blend until combined and ice is finely chopped
Squeeze in some Lime & Lemon juice, around 50 grams (25 grams of each)
Mix for a few seconds to combine
Rim a glass with some salt, add sugar to the salt if you prefer the sweet/salty combination
Pour into a glass
Garnish with a lime and lemon slice
Enjoy!
---
From everyone here at Arrital Kitchens. Have an amazing Bank Holiday Weekend!
Remember to drink in moderation and never get behind the wheel or throw food in the oven if you've enjoyed a drink.
Stay safe and have fun!